A Brief History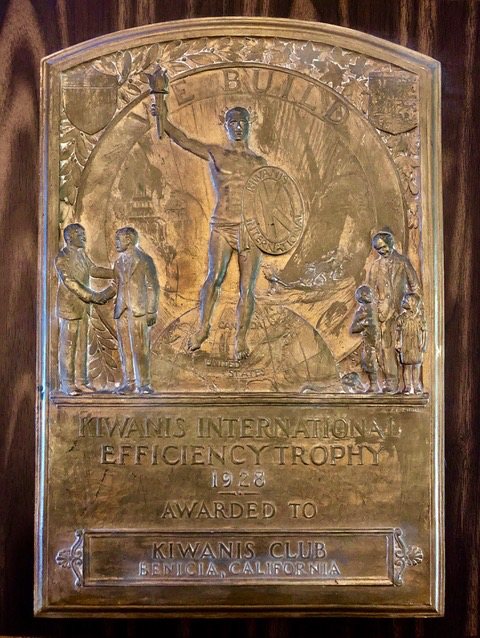 On February 5th, 1926 the Benicia Kiwanis Club received its charter from Kiwanis International. It was sponsored by the Kiwanis Club of Vallejo.
One of the founders of the Benicia club was Robert H. Mann. Robert and his wife Myrtle moved to Benicia in 1909. Robert was the civilian administrator of the Benicia Arsenal until his retirement in 1945. Myrtle was a science and math teacher at Benicia High School.
Robert held the offices of Secretary and President in the Benicia Kiwanis Club and then served as Lt. Governor of Division 8 in 1935. Robert also served as Chairman of the International Attendance Committee during 1929-30.
In over 90 years, 8 Benicia Club members have served Division 8 as Lt. Governor. Our Cal-Nev-Ha Division spands the states of California, Nevada and Hawaii. Quite a large area to preside over and bring together.
The year 2004/2005, Benicia Kiwanis received the Distinguished Club award bestowed at the California-Nevada-Hawaii district convention. During that same convention, another award was presented for an outstanding club newsletter.
The Benicia Kiwanis Club was instrumental in the restoration of the Clocktower Fortress, utilized today by the city and its citizens for many events. The club currently charters the Key Club at Benicia High School and Cub Scout Pack 108. We also give out numerous scholarships at both Benicia and Liberty High Schools. In the most recent years we've assured that every school in Benicia has an AED and is trained to use it to save lives in our community. Also for over 50 years we've hosted and run the Easter Egg Hunt at the Bandstand in City Park and supported our elementary schools by providing needed supplies and tutoring.
Each one of us holds in our hearts the Kiwanis motto of "Making the world a better place one child at a time."